Interactive Studies or How to Adopt the Athlete to Educational Society?
Wyższa Szkoła Biznesu – National Louis University in cooperation with European University Hockey Association organized the Transnational Meeting in case of the Erasmus+ Project in Nowy Sącz on April 5th– 6th, 2019. Main topic of which was"Building a strong partnership between Sport and University on regular basis structure – Important basis for dual career opportunities". During the conference, such pressing issues as the connection of university life (training) and the training process of athletes were raised.
The event included remarks by the Rector of Wyższa Szkoła Biznesu – National Louis University, the student and player of the hockey team Roman Lomaev and International Projects Coordinator of Wyższa Szkoła Biznesu – National Louis University Natalia Burmay. It worth to go into details in speeches of each of speakers.
The Rector Dr. Dariusz Woźniak has opened the conference in Wyższa Szkoła Biznesu – National Louis University.  He told about the history of the university`s creation back to 1995, when it was the only one private educational institution in the whole territory of the Republic of Poland. Also, the structure was noted as one of the most informationally developed centers in the country, since the first computer in Poland appeared at our university (an interesting fact that few people know about it).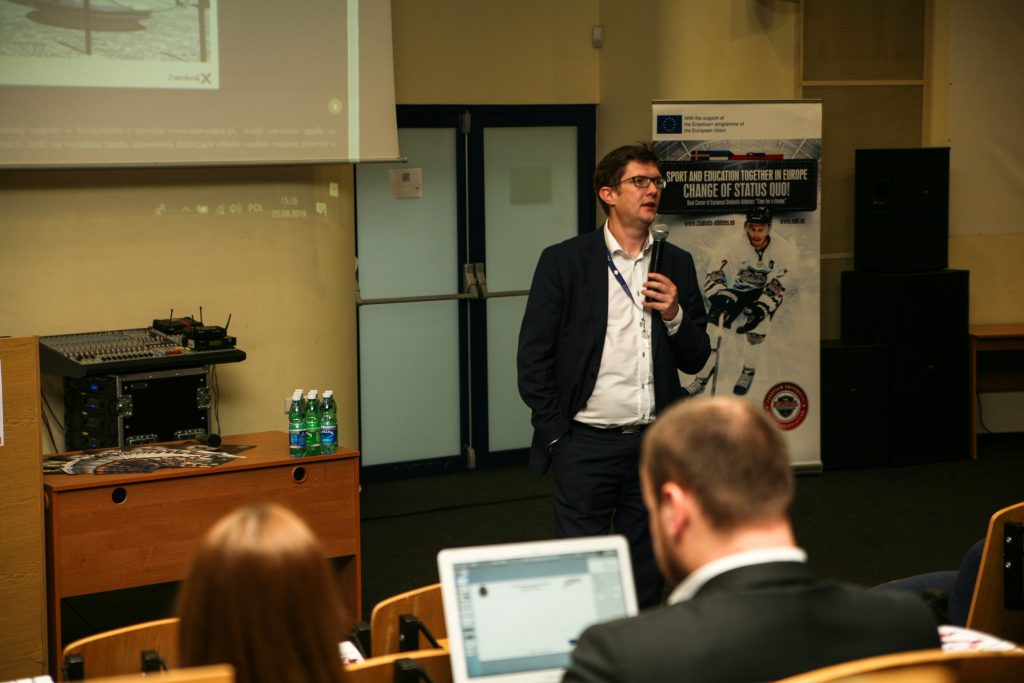 The Rector put attention to the location of our school - the South of Poland: the picturesque Tatra mountains, rivers, and great potential for business development. It is New Sacz, the place where the conference was held, is one of the fastest growing cities in the whole country. All necessary conditions for business and sport are created here. One of these points is Krynica - Zdrój.
Hockey Academy KTH 1928 Krynica-Zdrój is known not only in Poland, but also in Europe, Russia and the USA. Club KTH 1928, on the basis of which the Academy was created, is one of the oldest hockey clubs in Poland, which has numerous champion titles in its 'piggy bank'. In 2018, the club celebrates its 90th anniversary.
The second presenter was Roman Lomaev and his insider opinion on the combination of a hockey career and university studies: "My presentation was directed on the topic about dual career.  During my speech, I spoke not only about my hockey career, but also about studying in Europe. It was also touched a problem of the hockey in Russia.  Why this topic so important?  The answer is simple.  Because many hockey players are faced with this problem and choosing between education and sports career, but you can combine these activities.  Of course, this concerns not only hockey, but also other sports." He also noted a potential way to develop and attract new partners in the EUHL - viewing camps for young athletes. Please find the presentation here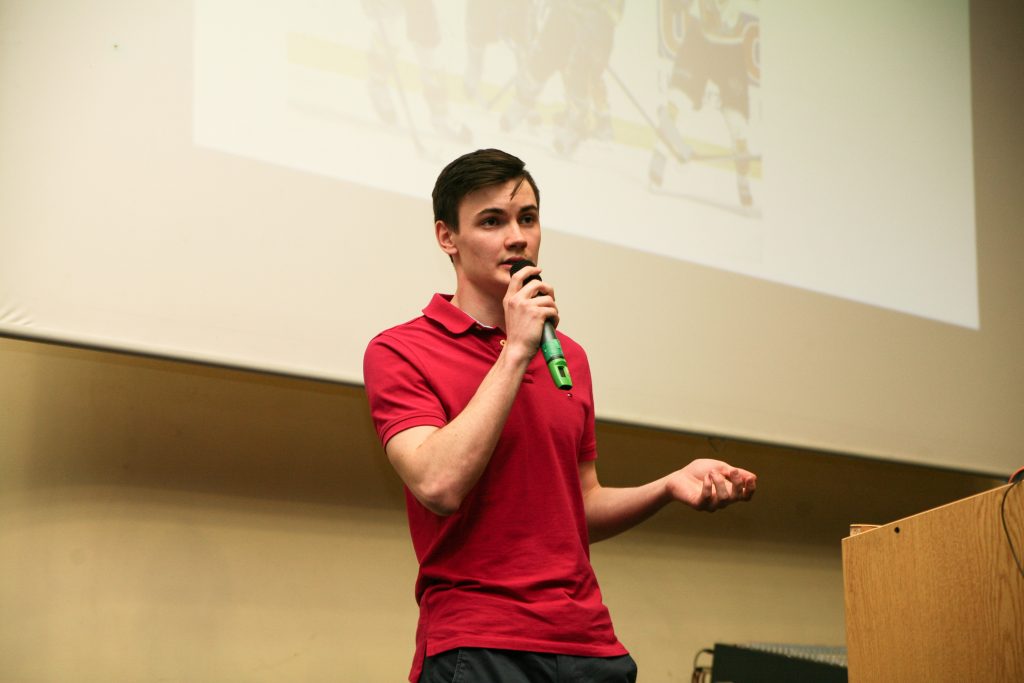 The third presentation was devoted to modern interactive teaching methods and their implementation in the life of an athlete. Natalia Burmay, International Department Coordinator, presented the Cloud Academy educational platform to the conference participants - an alumni development product of Wyższa Szkoła Biznesu – National Louis University, which was implemented at 6 Polish universities. The main advantages of which are:
comprehensive and comfortable management of the course of studies, including virtual diary and index, didactic materials, tasks, tests, projects, evaluation, contact with lecturers, service payments, scholarships, generating and submitting applications support for theses, etc.;
limiting the number of contacts with the dean's office, incl. thanks to electronic circulation of documents and multi-faceted communication with the administration of lecturers;
participation in interactive distance learning classes using any mobile device with the option later playing offline lectures;
permanent access to the university's news and information about didactic events (e.g. change of appointment date, new rating, etc.) thanks to the personalized CloudA and push notifications.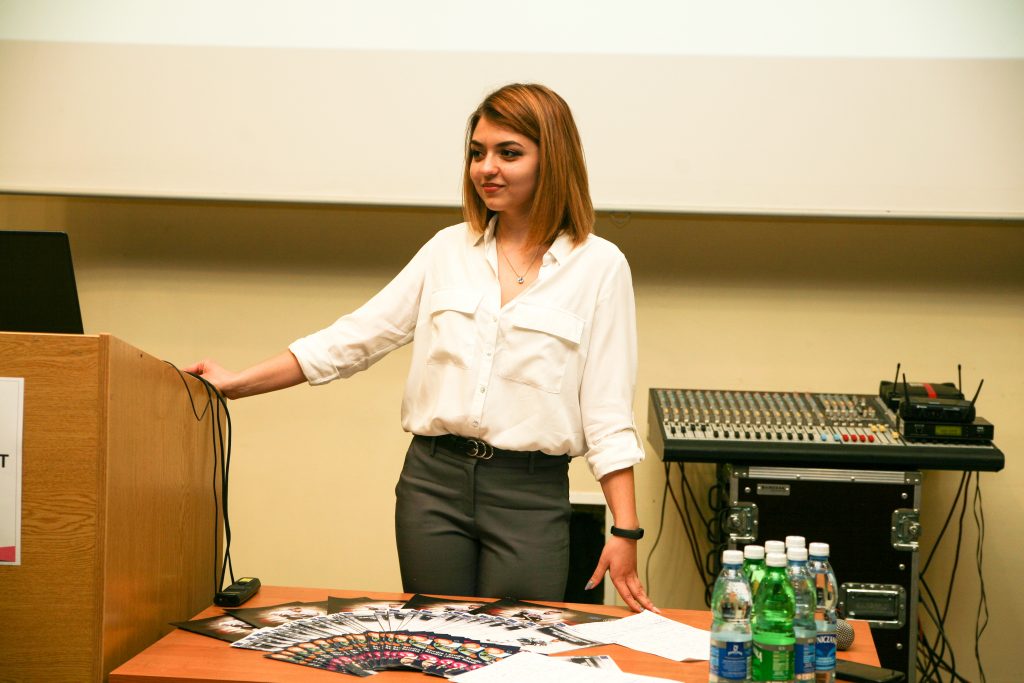 All of the above benefits provide an opportunity for the athlete - the student to perform two roles and be in demand on the labor market. Please find the presentation here
During the second part of the Conference it was discussed main issues and problems of cooperation between University and Hockey society using Round Tables Discussion:
Integrating hockey schedule into academic schedule

Using innovative education platform – e-learning systems to give a chance for athletes attending lectures even through the Internet.
Improve communication between Universities and Hockey Clubs; creating a special group (with the special requirements) for young sportsmen.
Accepting hockey carrier experience as a part of internship program in University, giving athletes more times for trainings.

Attracting the best students-athletes by the university using dual career in Hockey

Proposing a special Dual Carrier system as a possibility to study in European University and continuing playing hockey.
Not everything is based on studying and playing. Traveling is also a nice point to attract potential students-athletes in European University Hockey League.
Quality attract quality. As much League will be developed and well-know, more advanced players and students will pay attention on its and join the community.

Official University acknowledgment of dual career of students-athletes

Concentration on basic principles of the special targeting group – hockey players. Taking into account their needs, problems with attending whole lectures and workshops.
Creating a department, which will be responsible for the leading hockey team educational process, helping them.
Strong positive attitudes from the University Managers (Rector, Deans, Professors) to show the support and interest in hockey field (attending games, taking active part in team`s life).

Special support services within the University for graduating students-athletes prior their entrance to professional life
Cloud Academy as the best way to integrate the students-athletes into University life. This system provides whole necessary possibilities for the 21stcentury student – lectures online, tasks/communication with professors, Dean`s office applications and so on. Using this type of e-education, students-athletes could receive a degree even not stopping playing and visiting games/trainings.